SORA Technology was selected for "J-Startup 2023"
On April 6, 2023, SORA Technology was selected for "J-Startup", a startup development program run by the Ministry of Economy, Trade and Industry (METI), the Japan External Trade Organization (JETRO), and the New Energy and Industrial Technology Development Organization (NEDO).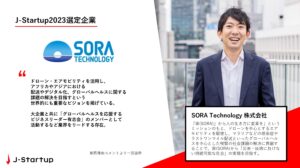 "SORA Technology has a globally significant vision of using drone air mobility to solve issues related to delivery, digitalization, and global health in Africa and Asia.
This company is a leader in the industry, working with large corporations as a member of the "Japanese business leaders in global health"."
Excerpts from the comments on the reasons for recommending
SORA Technology for "J-Startup"
" As we experienced with COVID-19, social problems happening somewhere in the world are not someone else's problem, but OUR problem.
SORA Technology, in the spirit of "With Planet", is committed to solving global issues such as global health using Japanese technology.
Thank you for your recommendation and selection.
And thank you very much for your continuous support to SORA Technology. "
Yosuke Kaneko, Managing Director, Founder and CEO of SORA Technology
【About J-Startup】
"J-Startup" was launched in June 2018 to create startups with global potential.
Based on recommendations from proven venture capitalists, new business managers from large corporations, and other external experts, potential companies are selected for this program, where government agencies and private "J-Startup Supporters" provide intensive support.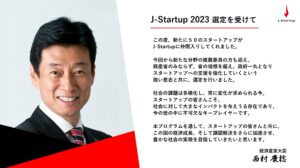 "We are pleased to announce that 50 new startups have joined J-Startup.
We have welcomed new nomination committee members from new fields, and have selected them with the strong will of the entire government to strengthen support for startups, transcending the boundaries of not only METI, but also other ministries and agencies.
As social issues become more diverse and change is always required, startups are the ones who can make the biggest impact on society and are indispensable key players in today's world.
Through this program, we hope to work with startups to further accelerate the country's economic growth and problem-solving in order to realize a prosperous society. "
Minister of Economy, Trade and Industry
Yasutoshi Nishimura
J-Startup Official Website :
https://www.j-startup.go.jp/
The Ministry of Economy, Trade and Industry :
https://www.meti.go.jp/policy/newbusiness/j-startup2023.pdf
【About SORA Technology Co.,Ltd.】
SORA Technology creates new social infrastructures using drones and other air mobility systems with the mission of "Transform people's way of life from 'The Sky (SORA)' " (SORA=The sky, in Japanese).
With a global perspective, we aim for pioneering social implementation in emerging countries.
While contributing to solving urgent social issues such as malaria and other infectious diseases and last-mile delivery, we will conduct our business as a single package that also includes actions such as supporting the introduction of legislation, drone operation management systems (UTM), and drone licenses.
We also aim to realize "reverse innovation" to developed countries based on the operation and technology we have cultivated in emerging countries, to realize "A sustainable society resilient to disasters and epidemics by utilizing 'The sky (SORA)' " and "Safe and integrated management of 'The Sky (SORA)' throughout the world".